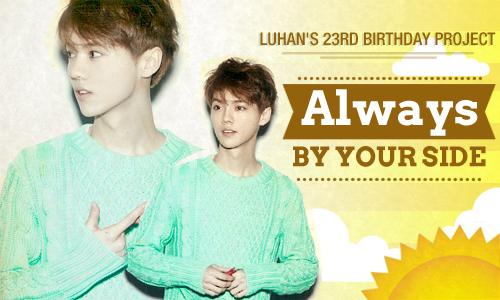 Paula
thank you <3
Luhan will turn 23 on the 20th of April.
Since we are a forum for Luhan, we will make his day even more special; but we are not alone in this project. We have support from Lullaby Luhan (an Italian fansite for Luhan), Addicted to M (a Japanese fansite for EXO-M), Deerest Luhan (Philipphines), EXOFanclub_SG, as well as Dearmydeer, who was really kind and offered to deliver gifts.

Please read everything carefully!
What will we do for him?
#1 GIFTS
We're planning to buy him some nice clothing such as a sweater, beanie, t-shirts, etc. and a cake. It depends how much is donated.
#2 SPECIAL FAN PROJECT
I guess you already know that every birthday project has some special fan project. After long thinking what we can do for him, we came to the simple idea, a scrapbook with photos of you at a special place of your city and birthday messages.
#3 BIRTHDAY SONG PROJECT (TENTATIVE)

We were discussing the possibility of writing and performing a song for him, but we need more participation in order to do so. There's a thread on the forum for this ---> HERE !
How can I participate?
Send us a photo of you at some special place of your city! It can be special for you or just a famous attraction; you should be holding a slip of paper with "Happy birthday Luhan!" written on it in Chinese or Korean.

Happy birthday in Korean: 생일축하합니다
Happy birthday in Chinese: 生日快乐

You can also simply make a heart with your hands.

If you're too shy, you don't have to show your face. You can send in your name, city, country, birthday message (max 30 words) and how to say "Happy Brithday Luhan" in your native language.

YOU CAN SEND BOTH(PHOTO AND MESSAGE) OR ONLY MESSAGE/PHOTO.

Since our forum is netural towards any couples/shippings/pairings, you can't write anything of that nature in your message; any derogatory, sexual, or overall inappropriate comments are not allowed. Please write it in English, Korean, or Chinese.

Example:
Mila/Frankfurt/Germany/Luhan Alles Gute!

Message: Dear Luhan, it's your 23rd birthday already.
I wish you all the best in your career!
I love you! (+Attached photo)
Send it at luhanexo12@gmail.com !
_________________________________________________________________________________________________
IT'S NOT OVER!
Those who donate any sum of money will be able to send a much longer message (max 300 words). Those who donate more than 15USD will recieve a gift from us.
HOW CAN I DONATE?
The best way for donation is PAYPAL. You can send us your donations at email.
After you donated, send us email at luhanexo12@gmail:
Name(under which you donated):
Amount:
Forum name:
DEADLINES
Photos and messages: 19th March 2013
Donations: 31st March 2013