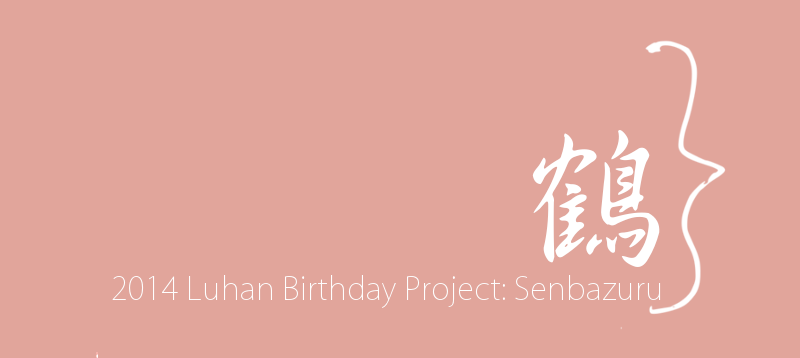 Hello everyone! It's that time again! It's time to prepare for Lu Han's birthday! He'll be turning 24 this year, on April 20th which is a couple months away. It might seem like a long time, but with the Holidays coming up and many others, it'll be passing by very quickly.
This year, we have decided to make a very special gift for him. Remember last year's birthday project? (View the album
here
.) Well, this one is very similar. We will be folding 1000 origami cranes for him, but on each slip of origami paper will be a message from a fan so that after a long, frustrating day, he can open one up and read your encouraging message!
Why 1000 cranes?
There is an ancient Japanese legend that folding 1000 cranes within one year will grant a wish. It's also seen as a symbol of hope during difficult times. The cranes will be a symbol for each international fan that participates in this project and will be the messenger that will show him how much we support him.
** Instead of stringing them together, like most people do, we will be keeping them as is so messages are not disturbed. Also, we will be making a separate booklet with all of the messages inside just in case he decides they're too precious to open

Messages
Please send all messages to
luhanworldprojects@gmail.com
with the following format:
Subject: 2014 Birthday
Message: YOUR NAME / COUNTRY / Message (around 140 characters for ENGLISH, 70-80 for Chinese and Korean; must fit in a tweet) 
The message must fit on 2x2 origami paper, which is why we are limiting the amount you write to 140 characters. Something short, simple, yet encouraging will definitely put a smile on Lu Han's face.
Donating
Donors of less than $10, will be able to write
one
extra message (two messages in total) after their donation is confirmed. Donors who donate $10 or more will have the ability to write
two
extra messages (three messages total)! 
Please send all donations through paypal to email.
After that, make sure to email to
luhanworldprojects@gmail.com
 with the subject
'2014 Birthday: Donation'
and the following information:
Name / LuhanWorld forum name (if you have one) / Paypal address / Amount Donated (in your native currency) / Country / Message in Chinese or English (max 140 characters; Chinese/Korean max 70-80 characters)
If you are unable to send money through paypal, you can send concealed cash or through Western Union. Please contact your country rep (found below) or Chae on Twitter.
All donors who include their address in the email will get a personalized thank you card from the LuhanWorld staff.
Please Note: These donations will only go towards this project as we are not only sending cranes to him. We are also planning on sending him other merchandise depending on the amount of donations we have.
Some Helpful Chinese Phrases
加油! = Chinese equivalent of 'hwaiting'
我会永远支持你!= 'I will always support you!'
你真的很MAN!or = 'You're really manly!'
你是我的男人!= 'You are my man!"
我爱你 = 'I love you'
生日快乐!= 'Happy birthday!'
Deadline
Messages: March 1st, 2014
Donations: Midnight on March 30th, 2014 (EST)
Last edited by Chae on Tue Sep 30, 2014 2:58 am; edited 13 times in total